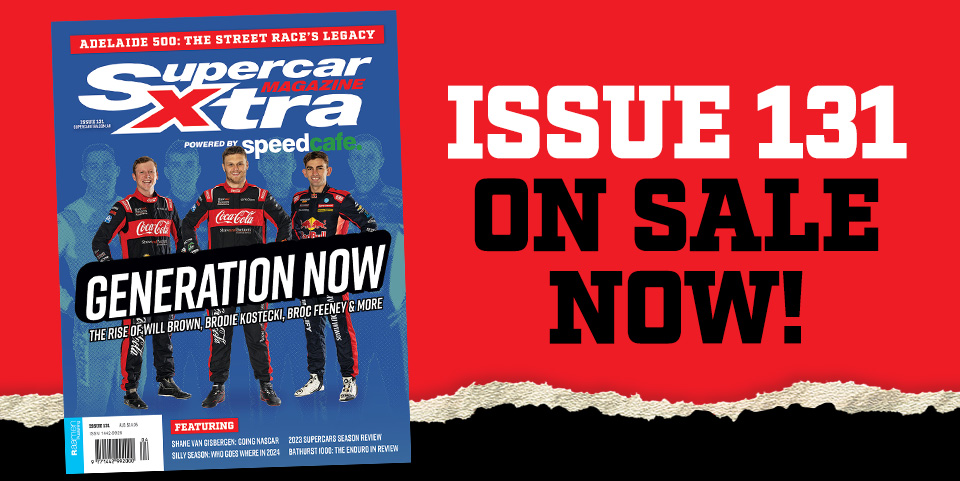 15 November 2023
SupercarXtra Magazine issue #131, featuring Brodie Kostecki, Will Brown and Broc Feeney on the cover, is on sale now from our online store and in newsagents across Australia.
CLICK HERE to purchase the print edition of issue #131.
CLICK HERE for the digital edition of issue #131.
The cover story for issue #131 looks at the generation change in Supercars, with the rise of the likes of Kostecki, Brown and Feeney over the last 12 months.
There are also features on Shane van Gisbergen's move to NASCAR, the Gen3 cars, the Adelaide 500, who goes where in 2024, a review of the 2023 Supercars season and Bathurst 1000 and more.
There is also a double-sided pullout poster featuring the Supercars class of 2023 and the Adelaide 500 promotional poster, with issue #131 included in the 2023 VAILO Adelaide 500 official program that will be on sale at the event and in newsagents in South Australia.
Issue #131 includes the following:
Season in review: A look back at the 2023 Repco Supercars Championship.
Generation now: The generation change that's happened over the 2023 season.
SVG goes NASCAR: Shane van Gisbergen's winning debut and move to NASCAR.
The new look Supercar: How the Gen3 cars rolled out in 2023 and the impact it had on Supercars.
Who goes where in 2024: A team-by-team look at the driver changes on the Supercars grid in 2024.
Hometown hero: Nick Percat on racing on home soil in Adelaide and his team move in 2024.
The Adelaide 500 legacy: The importance of the Adelaide 500 to Supercars.
Bathurst in review: A look back at the 2023 Repco Bathurst 1000.